For WordPress Agencies
Making WordPress updates or other changes for your clients?
Check the websites visually and quickly fix things if something broke.
Check your clients websites when doing…
CSS Changes
Did you make a CSS change without noticing it caused changes on other pages? Simply check all other pages and see if there are unwanted changes on any other page.
WordPress Updates
Did an update of WordPress or plugin break something on the site? Detect those issues visually in a new screenshot, where changes are highlighted. Now you can easily fix issues.
Pagespeed Optimization
Caching, JS and CSS optimizing, lazy load and all other pagespeed optimizaions are important for WordPress website. But they can also deface certain pages of your website.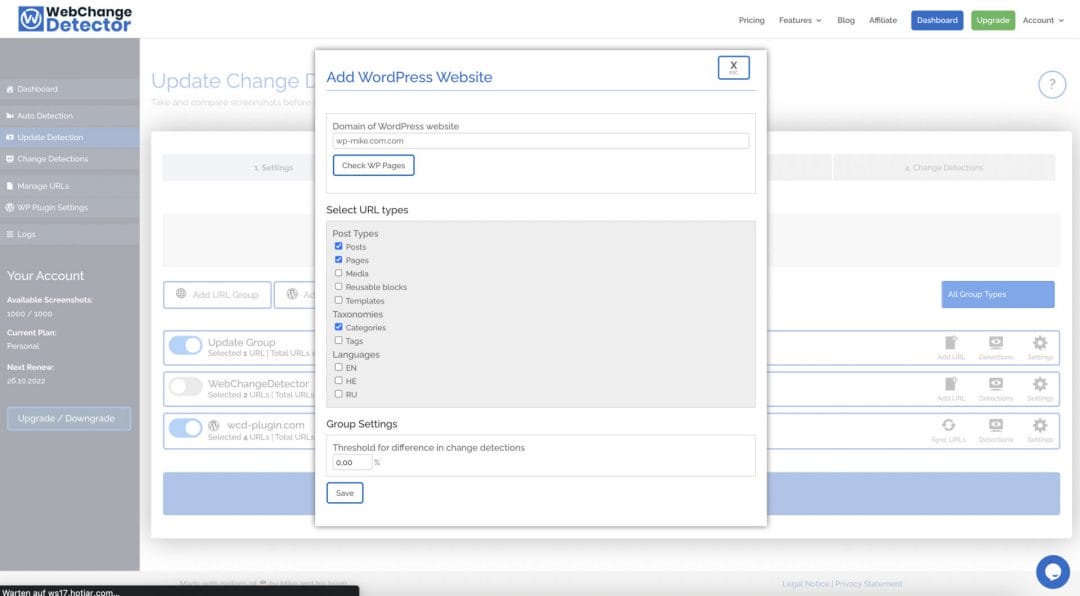 Synchronize pages
Select the WordPress posttypes which you want to import from your clients website.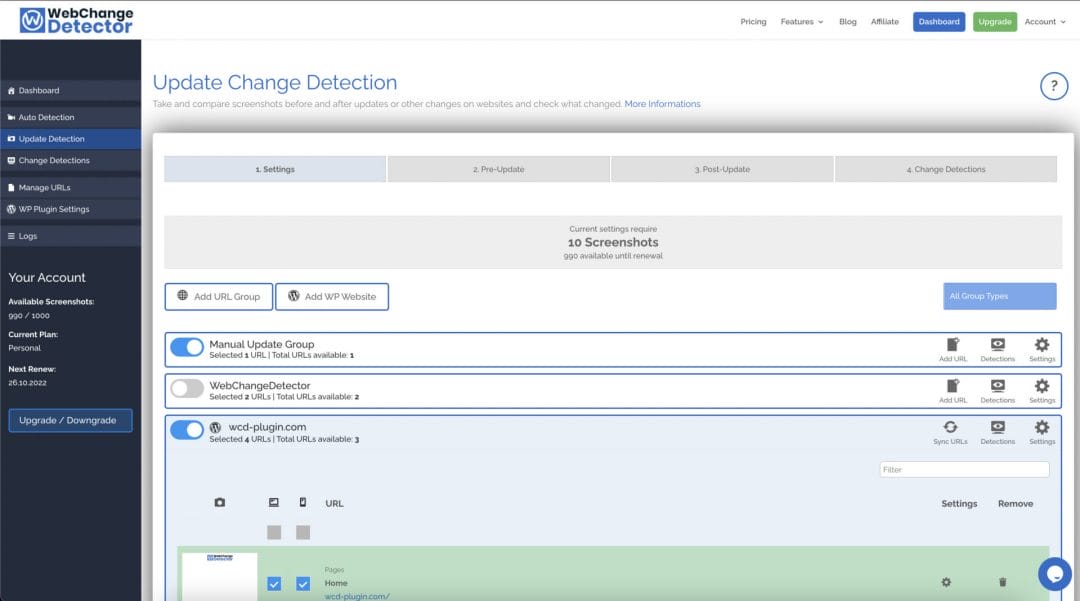 Select websites and pages
Select the websites, pages and screensizes you want to create the change detection for.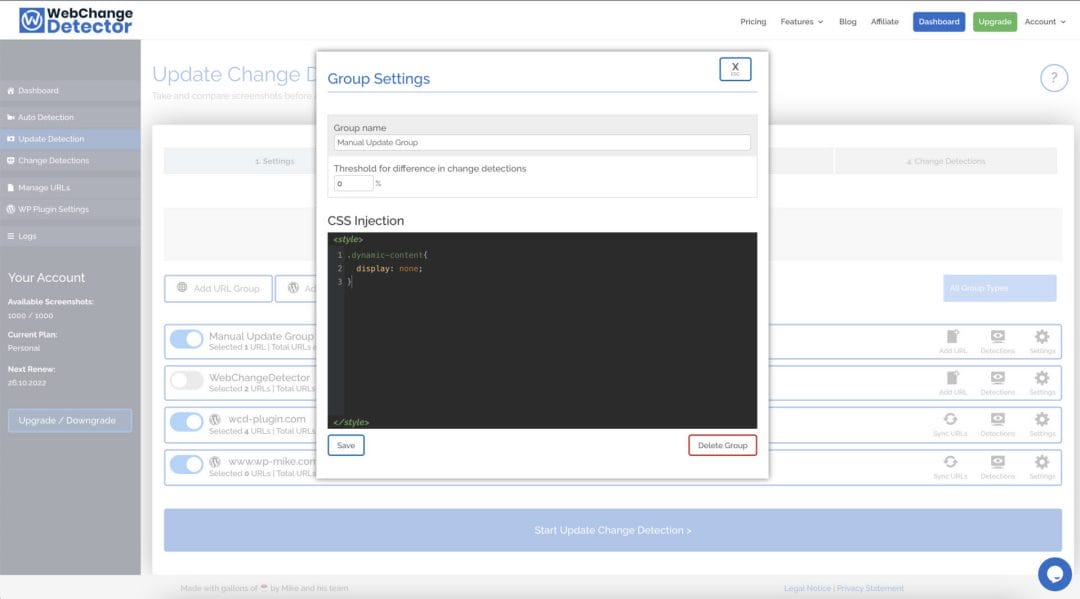 Add threshold CSS (optional)
You can exclude or modify elements via CSS before taking the screenshot. This is helpful for e.g. excluding dynamic content.
Add a threshold in percent. Changes below this will be seen as no change.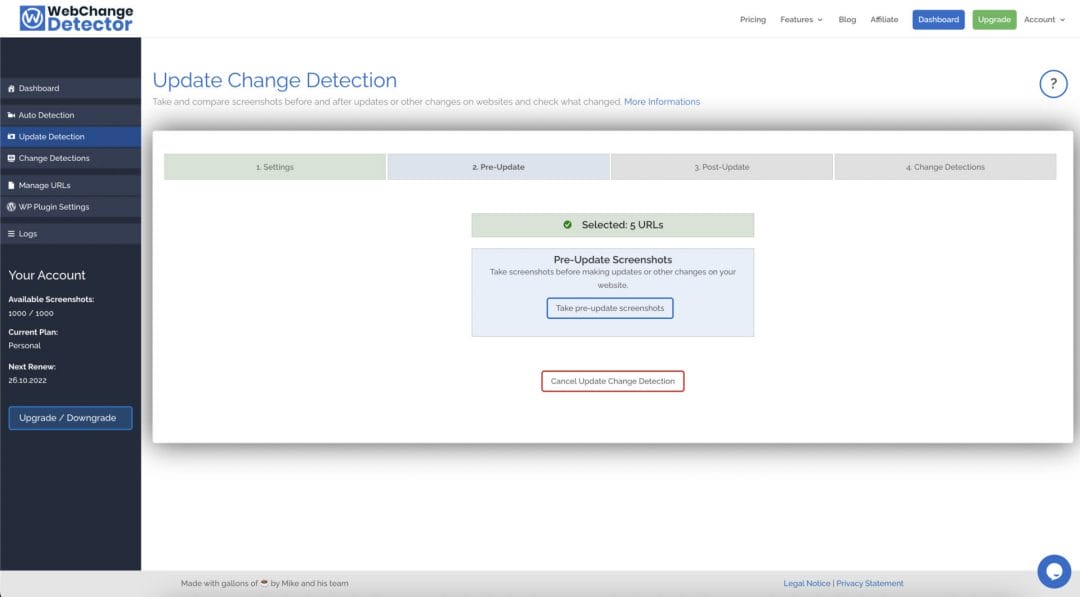 Ready for pre-update screenshots
You can start taking the screenshots with one click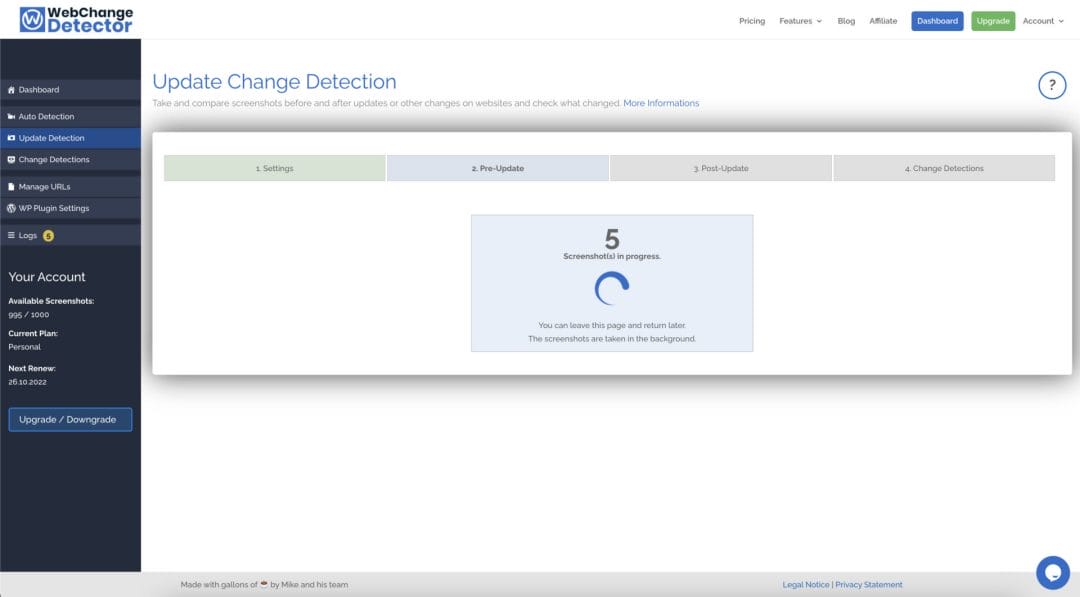 Relax
We take the screenshots for you.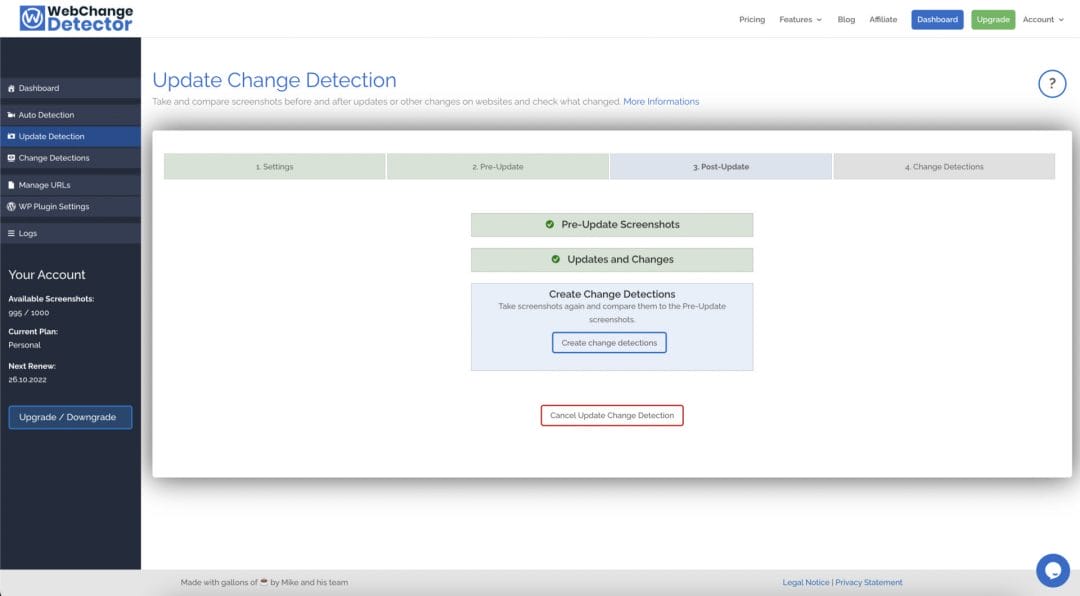 Time for updates and changes
Make all updates and changes on your website.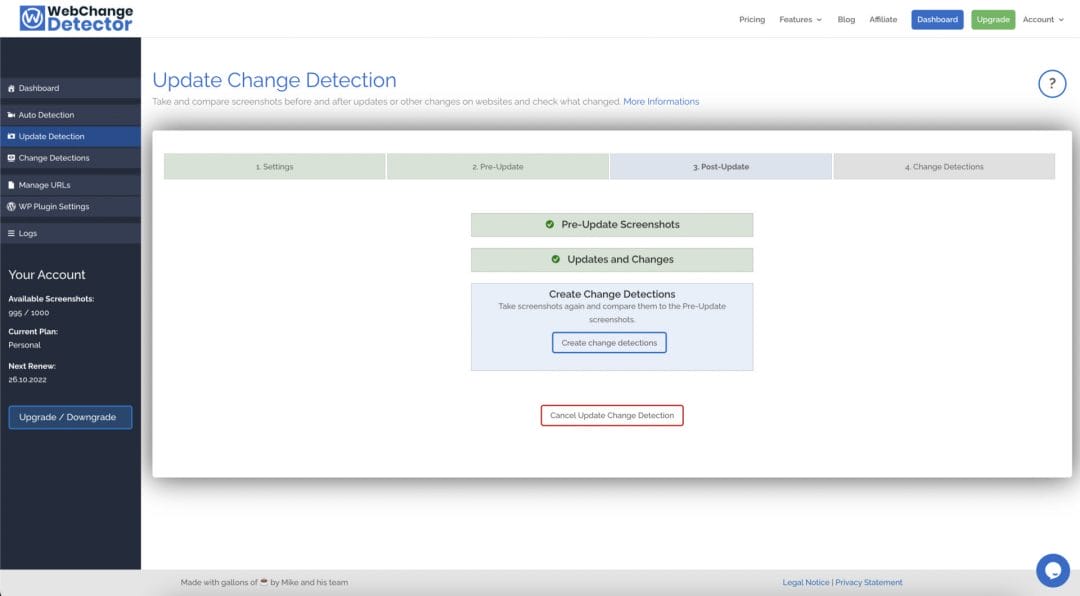 Start the change detections
With one click we take screenshots again and create the change detections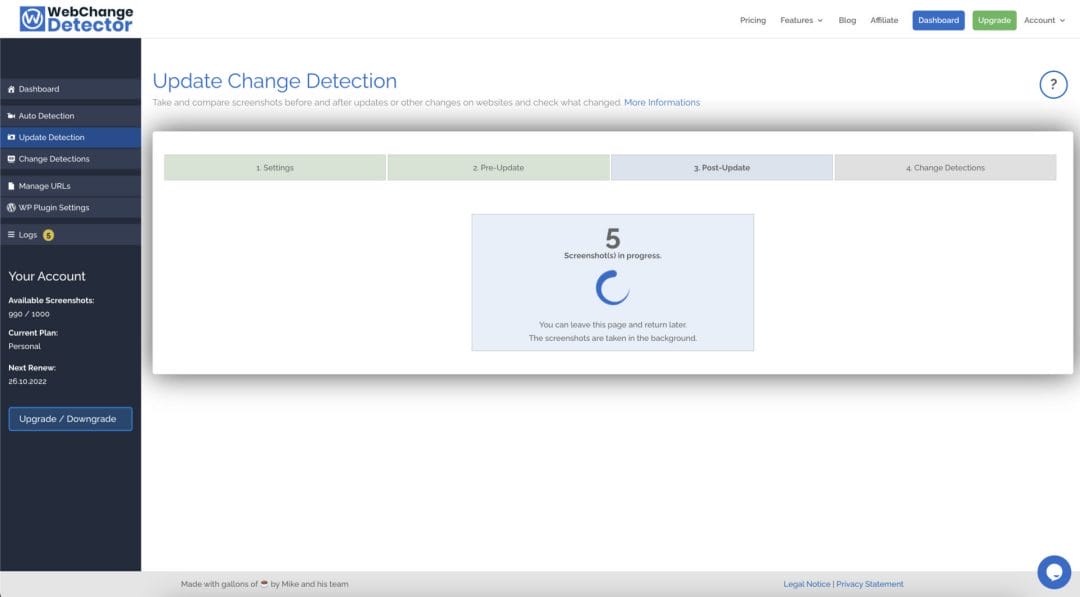 Relax again
We process the screenshots and create the change detections.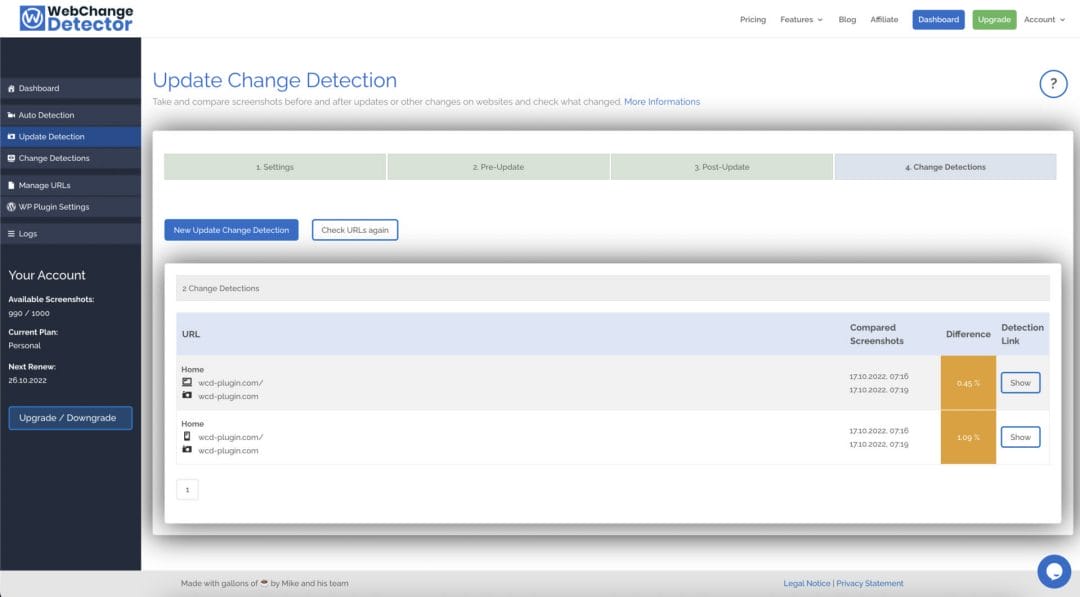 Change detection overview
See all pages which have changed and how many percent of the page changed.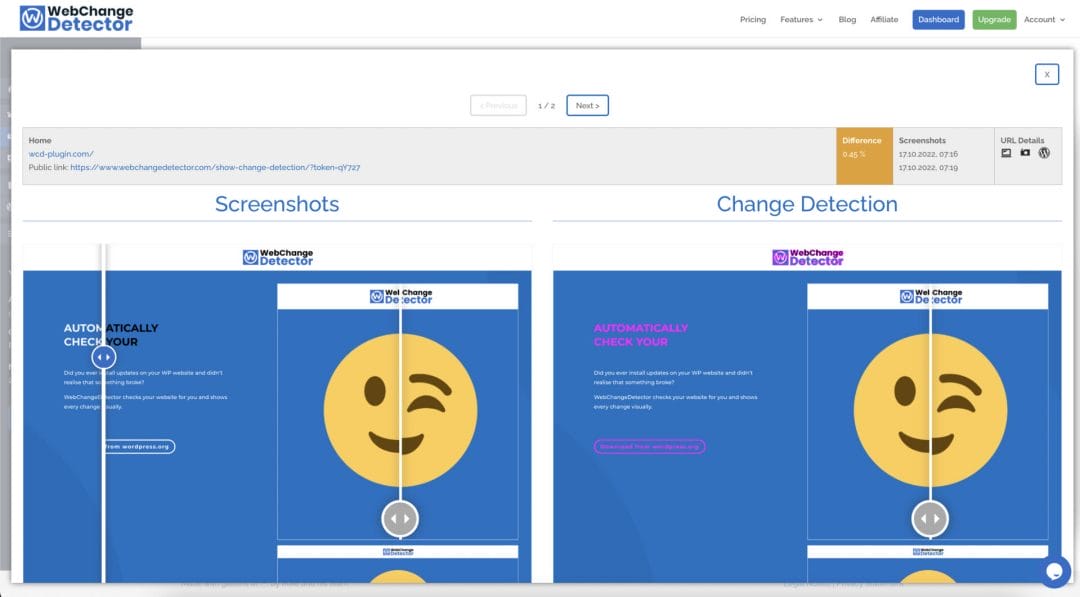 See what changed
On the left side, you have the before- and after screenshots. With the slider you can compare the screenshots.
On the right side you see all changes highlighted for a better overview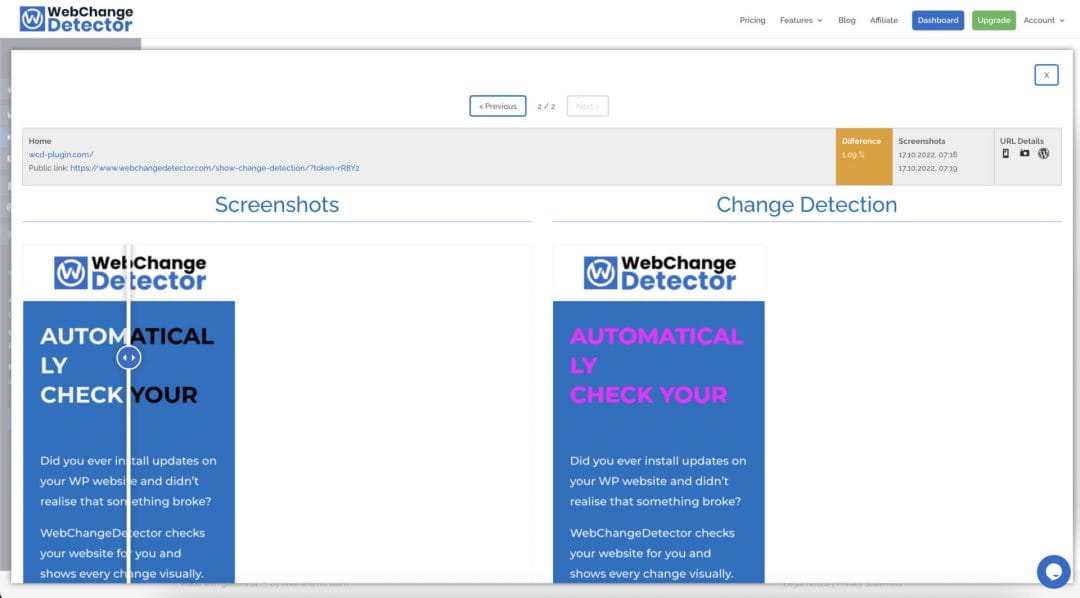 Check mobile too
Check the change detections for mobile devices too.
Connect Your Client's Website
(Optional)
WordPress Plugin
Use our plugin on your client's website. Your client can see the change detections in the plugin. Optionally you can also give your clients credits from your account which he can use for change detections.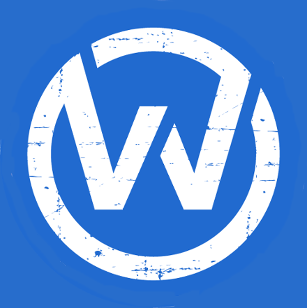 Web App
Manage the settings and limits for all your client websites from one dashboard. Start Update Change Detections for multiple websites with one click and check the change detections after to make sure everything looks as it should. Synchronize the webpages from your Web App dashboard.
We Identify Every Change On The Websites You Manage.
Stay one step ahead and fix issues before your client or their customers see them.
Save Time
We check the websites for changes and show them to you – both desktop and mobile. No need to waste hours on checking them manually.
Build Trust
You know what happens on your clients websites before they do. Avoid getting that angry email asking why something is not working – you have already solved it.
Save Money
A broken website can scare away potential customers. Keep track of your clients website and make sure it stays on brand. 
Features For Managing Multiple WordPress Websites
Set limits for your client
Limit the number of URLs to select for update change detections and the amount of auto change detections your client can use from your credits.
Disable the Update and / or Auto Change Detection feature for your clients they should only be able to see change detections which you created.
Get Started For Free
Use WebChangeDetector for free with 50 screenshots per month.
Simply upgrade your account when you need more screenshots.